Pottery Barn is known for its stylish homewares, and it wouldn't be a surprise that they're launching a collection of standout seasonal decor so you can celebrate Thanksgiving in style.
To help you plan the perfect outline of Thanksgiving decor ideas, we've selected the best Pottery Barn Thanksgiving decor to shop now. From elegant tableware for your Thanksgiving table decor to wreaths and pumpkin decorations, we guarantee that these beautiful picks from Pottery Barn will transform your home into a warm and welcoming haven this season.
Our favorite finds from Pottery Barn's Thanksgiving collection
The Pottery Barn Thanksgiving collection elegantly celebrates harvest-inspired color palettes and the beauty of the natural world through a full range of unique decor. Whether you're looking to create a special Thanksgiving table, or you're in need of some cozy candles, the collection can help your home feel more special — and elegant — for your Thanksgiving celebrations.
Tableware
As the place where you sit with friends and family to enjoy a delicious Thanksgiving dinner, your dining table is truly at the heart of your Thanksgiving celebrations, and enhancing this space with gorgeous seasonal decor will make your meal more fun, enjoyable and special.
From artistic dinnerware sets that celebrate traditional Thanksgiving decorations (you can never go wrong with anything pumpkin-themed) to elegant tablecloths and napkins, explore our favorite dining table accessories from Pottery Barn's Thanksgiving collection below.
Rustic Pumpkin Dinnerware Set
It doesn't get more seasonal than this rustic pumpkin dinnerware set. Vibrant seasonal colors pop against a white background, bringing this farm-to-table design to life.
Harvest Pumpkin Dinnerware Set
This artistic Harvest Pumpkin dinnerware set can add beautiful color and whimsical seasonal design to your Thanksgiving table.
3D Pumpkin Serving Kit
Add fun, rustic charm to your Thanksgiving dining table with this adorable pumpkin serving set – guaranteed to create a talking point among friends and family.
Aldo Pumpkin Embroidered Cotton/Linen Table Runner
Elevate your seasonal table with nature's beautiful bounty with this Aldo Cotton/Linen Embroidered Table Runner. The colorful and charming design features a cheerful print inspired by traditional folk art.
For a colorful, coordinated look, pair your Aldo tablecloth with these matching napkins; Help transform your table into a bountiful harvest filled with festive fall linens.
Eleanor Cotton Organic Cotton Rectangular Tablecloth
Inspired by antique frescoes from the 18th century, this tablecloth features an array of bold flowers and vibrant foliage against a warm cream background. The design can be used all year round, but we think it's perfect for Thanksgiving.
Presentation tools
Thanksgiving dinner has many ingredients – that's what makes it so delicious and unique, so make sure before the big day you have all the serving utensils and accessories you need to get all your delicious dishes to the table seamlessly.
From an adorable turkey baster to elegant party buckets, these accessories are not only practical, they can look great on your Thanksgiving dining table, too.
Rustic turkey shaped ceramic bowl
This turkey-shaped stoneware bowl can add a wonderful finishing touch to your Thanksgiving table, serving as both a fun decor and a functional bowl at the same time. We think it's a great idea for Thanksgiving.
Heirloom ceramic party bucket
Start your Thanksgiving party with this heirloom ceramic party bucket. Inspired by favorite flea market finds, this nostalgic piece honors the past but can still work great in a modern setting.
Heritage Silver Türkiye Cloche
Our Heritage Silver Turkey Cover can elevate your Thanksgiving turkey dinner with classic elegance. Hand-forged from stainless steel, this piece is one to cherish for generations.
Pumpkin
These seasonal pumpkins are synonymous with fall decor ideas, Halloween decor ideas and of course Thanksgiving, so, the more pumpkin decorations you have in your home throughout these seasons and celebrations, we think the better.
From rustic pumpkins that can be used to decorate your outdoor space, perfect for welcoming friends and family into your home, to cute pumpkin pillows that can be used to add beautiful texture, color and cozy charm to your seating areas, explore our beautiful pumpkin picks below.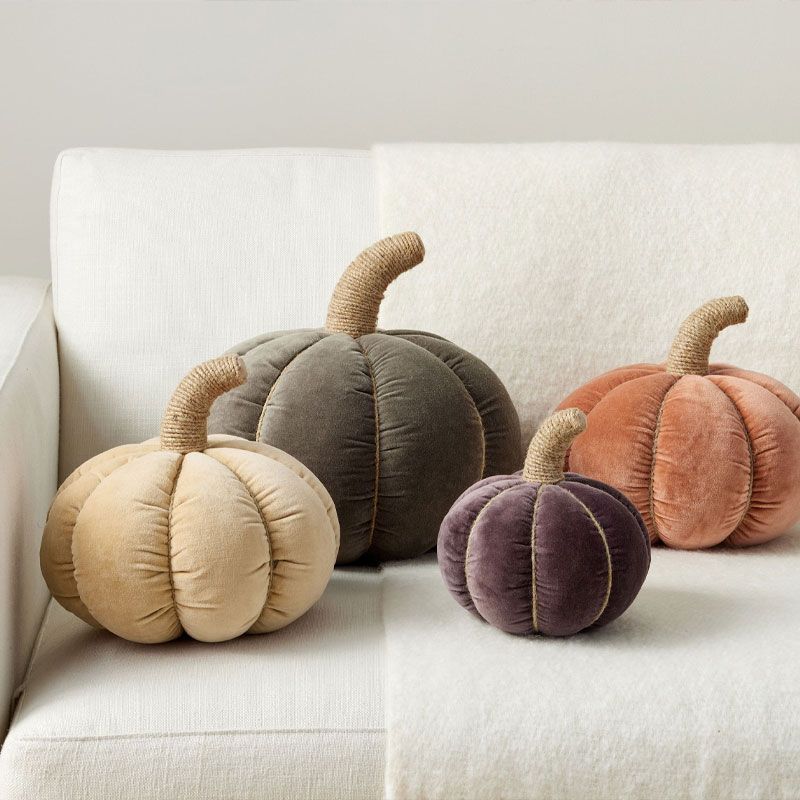 These beautiful pumpkin pillows are perfect for adding a cozy seasonal touch to your sofa, chair or bed. The designs are made of soft velvet, and are available in a range of harvest-inspired colors.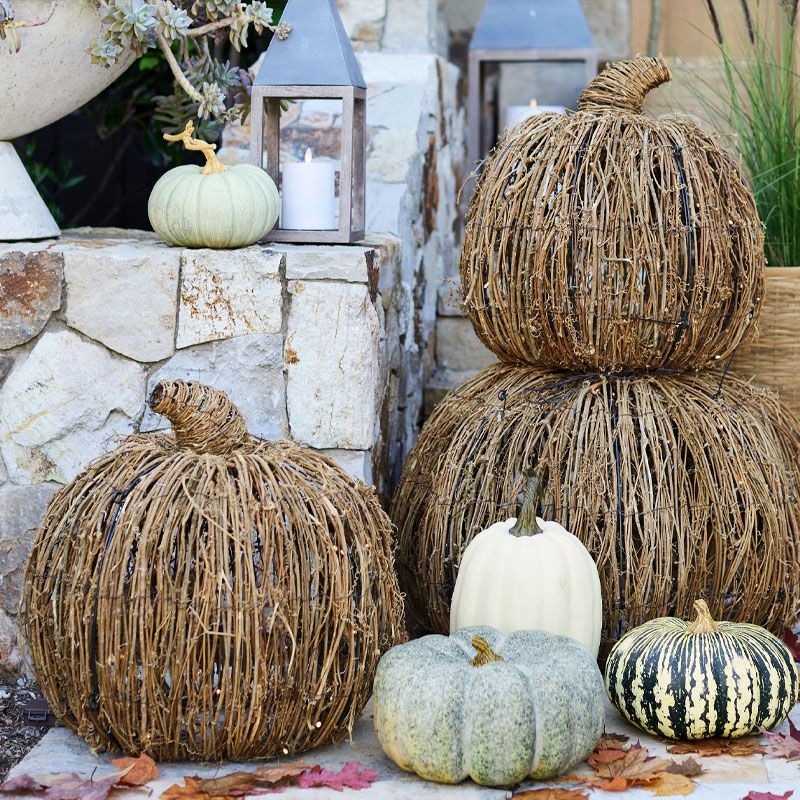 This elegant pumpkin is made using rattan to give it texture and warmth. A beautiful, rustic, no-clean alternative to traditional candle-lit lanterns.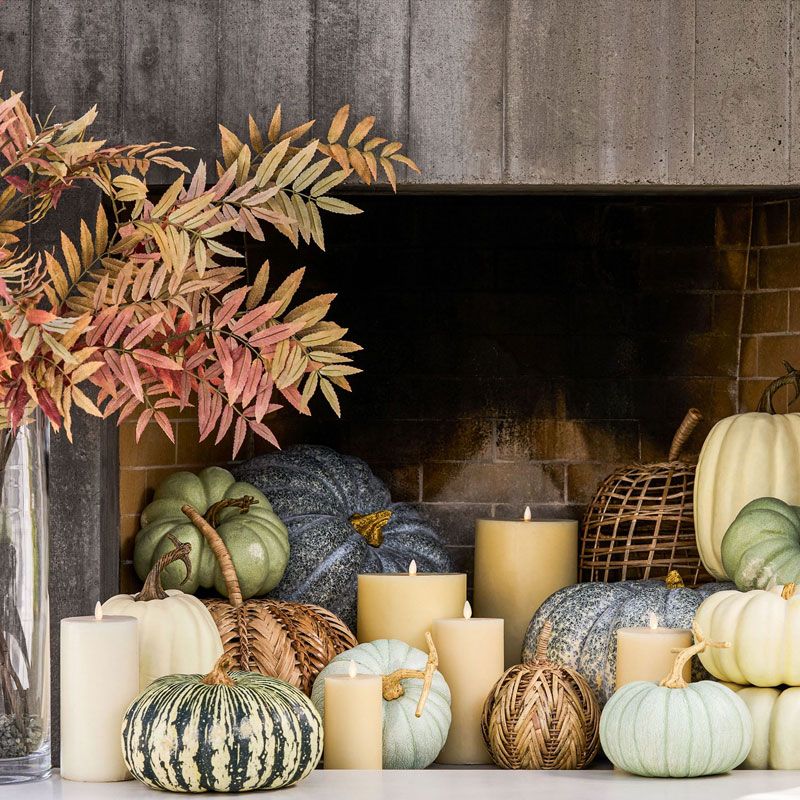 Showcase fall's bounty with these hand-painted pumpkins and gourds, available in a variety of organic shapes and seasonal colors, and can be placed throughout the house (both inside and outside) to celebrate Thanksgiving.
Flowers and leaves
Fall decor and Thanksgiving decor are often centered around the beauty of the natural world and the changes in nature as we transition from summer to fall and winter. From beautiful Thanksgiving wreath ideas and gorgeous wreaths to styling your space with vases of fall flowers and foliage, these natural touches can make your home feel more in sync with the Thanksgiving season.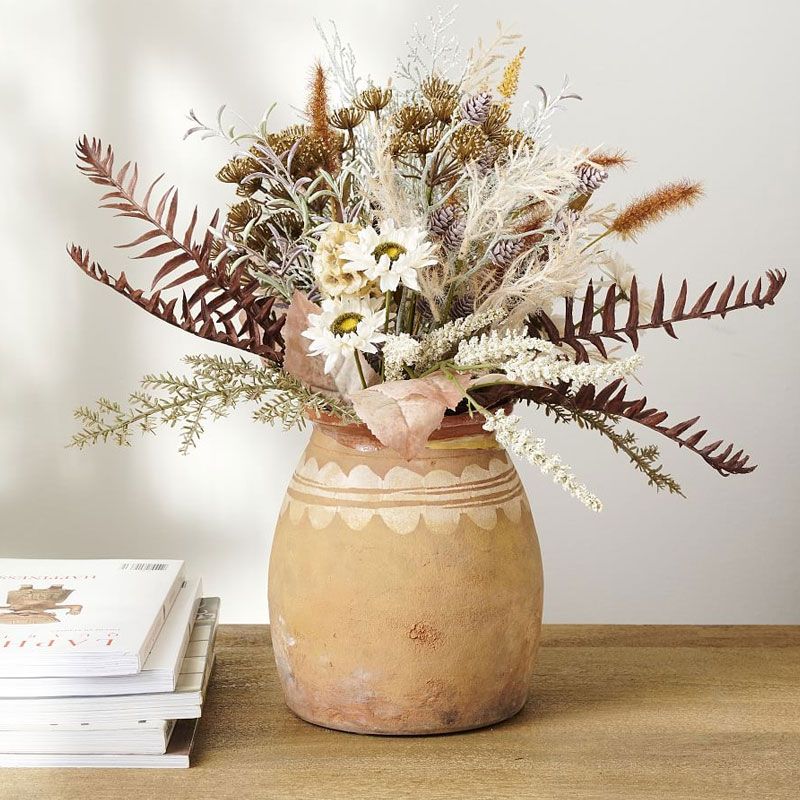 With the soft beauty of mimosa and reed blossoms, even a single bunch of these botanical flowers can make a beautiful statement, perfect for placing on your dining or coffee table to celebrate the season.
Hand-lit pumpkin wreath and garland
A beautiful array of gold color and natural texture, this wreath and wreath set celebrates the changing of the seasons with maple and oak leaves. Jeweled with mini pumpkins, the wreath and wreath can elevate doors, shelves, tables and banisters for Thanksgiving celebrations.
Dried Autumn Blessing Wreath
For a more subtle seasonal look, this dried fall blessing wreath is a great elegant addition to your Thanksgiving decor, made of artistically arranged dried flowers and plants.
Candles and candlesticks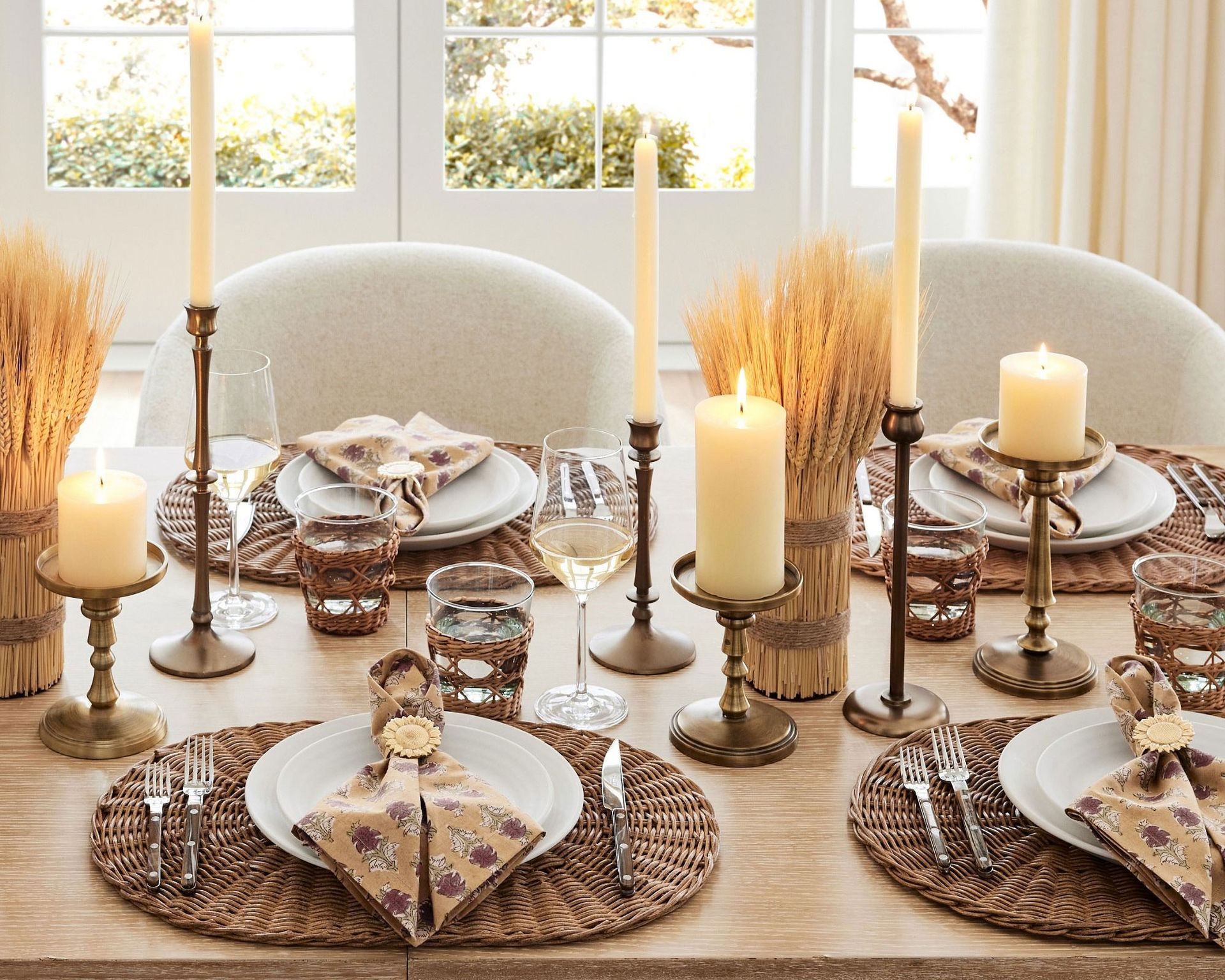 Perfect for adding cozy candlelight and elegant decor to your Thanksgiving table, or to place with other decor in your living room or bedroom, candles are an easy and effective way to make your space feel warmer and more welcoming.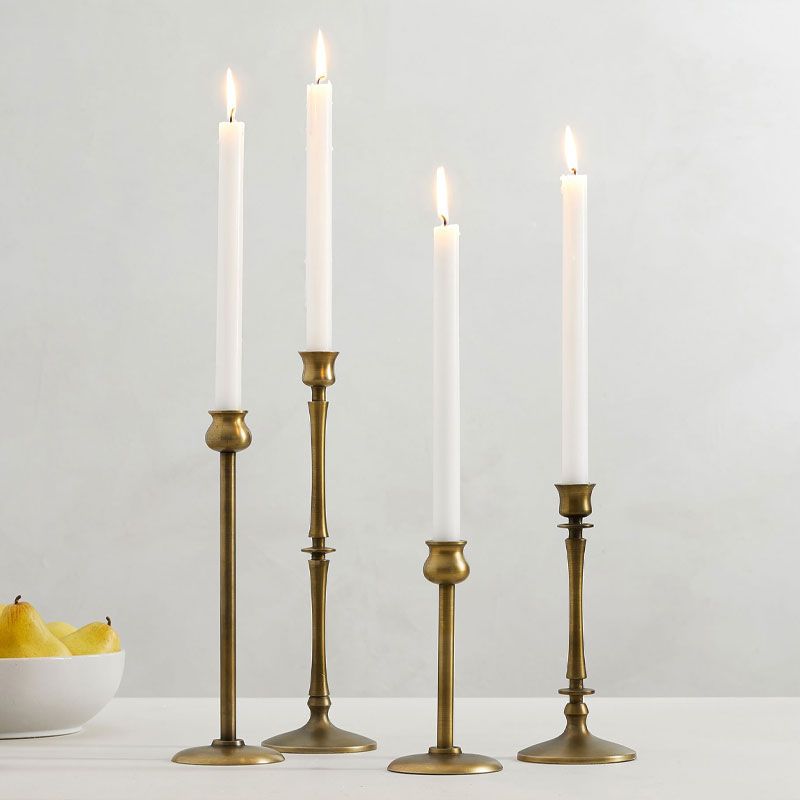 Available in either brass or bronze, these classic taper candle holders can help add height and a warm, cozy glow to your Thanksgiving table, mantel, sideboard and more.
Cinder Handcrafted Glass Taper Candle Holder
Available in either amber or smoke, these colorful candle holders feature an eye-catching seed texture, adding an elegant, contemporary touch to your Thanksgiving decor.
Premium flameless pillar candle built in wheat
Perfect for the dining table, this worry-free flameless candle provides a warm, comforting glow – just like a real candle. The column is enhanced with golden wheat spears, adding a touch of seasonal charm to the design.
Luxury dim wax flameless pumpkin candle
These flameless pumpkin candles serve as beautiful decorations and cozy candles in one. Available in three different colors and heights, the charming designs are perfect for adding to your Thanksgiving dining table or coffee table.
Handmade Recycled Glass Pumpkin Lid Candles – Harvest Spice
These pumpkin colored glass candles evoke the inviting scent of Harvest Spice, with notes of cinnamon, allspice, nutmeg, ginger and cloves, and are perfect to add to an entryway console table or for use in a bedroom, living room or dining room.
Handcrafted Pumpkin Fallon Candle Holder
Add a subtle sculptural statement to your Thanksgiving display with the Fallon Pumpkin Candle Holder. The sculpted design of metallic tendrils can house columns – flameless or not – in the center of the cage, casting a cocoon of warmth and a play of shadows into your space.
common questions
What type of decorations are used at Thanksgiving?
As we discovered in this piece, many Thanksgiving decorations are inspired by the natural beauty of the fall season.

From colorful leaves, pumpkins, and flowers to rich fall colors, these motifs can be used in decorations and accessories of all kinds; From tableware to soft furnishings, decorations and more.

Some of the more traditional Thanksgiving decorations include wreaths and wreaths made of beautiful flowers, leaves, and pumpkins (both real and fake).

Of course, Thanksgiving decor doesn't always have to revolve around pumpkins and orange, yellow and red color palettes. It's an opportunity to fill your home with beautiful decor, making it feel more unique and special for the celebration. This can be in the form of any decor that brings you joy or coordinates with your style. Current internal.
---
In addition to their Thanksgiving collection, Pottery Barn also has a great selection of fall decor, Halloween decor, and holiday decor.
We explore the best Pottery Barn Halloween decorations to buy in our dedicated feature.