Can bamboo be great for construction?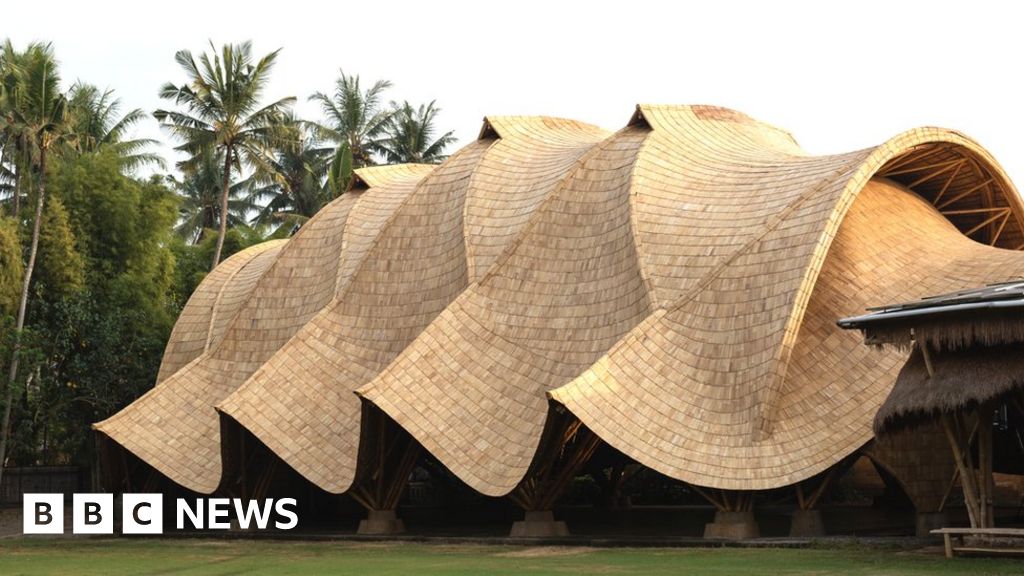 Written by Susan Byrne
Technology Business Reporter
The arch at the Green School in Bali is made from a series of 19-metre-long bamboo arches and is considered one of the most important bamboo structures ever created.
Designed by architecture studio Ibuku and using approximately 12.4 tons of Dendrocalamus Asper, also known as Rough Bamboo or Giant Bamboo, the lightweight structure was completed in April 2021.
This eye-catching building showcases the strength and versatility of bamboo. Add to that bamboo's green credentials, and it looks like an excellent material to help the construction industry reduce its carbon footprint.
Like trees, bamboo plants sequester carbon as they grow and can act as carbon sinks, storing more carbon than many tree species.
A bamboo plantation can store 401 tons of carbon per hectare (per 2.5 acres). By contrast, a Chinese spruce plantation can store 237 tons of carbon per hectare, according to a report by the International Bamboo and Rattan Association (INBAR) and Delft University of Technology in the Netherlands.
It is one of the fastest growing plants on the planet – some varieties grow at speeds of up to one meter per day.
Additionally, bamboo is a grass, so when the trunk is harvested it grows back, unlike most trees.
It has a long history of use in construction in Asia, but remains a specialty building material in Europe and the United States.
In those markets, heat- and chemical-treated bamboo is becoming more popular in flooring, kitchen countertops, and cutting boards, but is rarely used as a structural material.
According to Christopher Matthews, of structural engineering firm Atelier One in London, part of the problem is a lack of knowledge.
"One of the biggest challenges was that no one really knew how to engineer with bamboo," says Mr Matthews, who worked on the Bali school project.
"So we had to test it. We were there, and we loaded it with sandbags to prove how strong it was."
Mr Matthews says demand for bamboo is increasing, with 30% of his company's customers now using the material. "We started developing more and more bamboo structures."
He points to an entire school campus in New Mexico, structures like a yoga studio in Costa Rica, and a bridge and pavilion in the Philippines.
"In the countries that use it, it is very cheap and very available, and the workforce is skilled at using it. If we start using it in Europe, it will be more expensive initially. But as its use increases, there is no reason why the cost will not come down."
He says the company is in early talks to help build with bamboo in the UK soon.
It would be beneficial if bamboo were grown in Europe, but the larger species do not grow well in cold, northern climates.
BambooLogic hopes to change that – it is the first company to grow bamboo on a large scale in Europe.
"It definitely needs a lot of sun, and some water as well," says Jean Ditavernier, a consultant at Bamboo Logic, which has bamboo plantations in Portugal.
"In the South, we have a lot of sun." He says it has the potential to restore degraded soil. "Where we grow in southern Portugal, the soil is very poor. Since the bamboo captures carbon dioxide and puts it into the ground, it makes the ground much better."
Mr. Ditavernier says his company is working with partners to develop new products for the European market.
The challenge, he says, is a lack of standardization. "In Europe, we are not used to working with bamboo as a material. There is a lot of data in Asia, but little data in Europe to work with."
Dr. Bhavna Sharma, assistant professor of architecture at the USC School of Architecture, and also a member of the task force that sets international standards for bamboo building materials, echoes this sentiment.
"Using bamboo in construction remains a challenge because it is still a non-traditional material," she says.
"It's just about increasing our knowledge, understanding how the material performs in different service environments, which means if I'm building in Amsterdam, how will the building perform in that kind of weather and climate versus if I'm building in Amsterdam?" Building in Indonesia? This way we can move forward in terms of the types of buildings we can build."
Mr. Sharma says the first International Standards Organization engineering bamboo testing standards were published last summer. "This will support practitioners, designers and engineers in adopting materials into projects."
In California, sustainable building materials company BamCore, founded in 2019, offers a framing system composed of bamboo and engineered wood, or eucalyptus and wood. The panels are used to construct buildings up to five stories high for both commercial and residential buildings.
"Our clients originally started out as single-home buyers or architects who were looking to be more sustainable," says Kate Shelton, chief sustainability officer at BamCore.
"But as we started to grow, we started attracting developers as clients." She points to D. R. Horton, the largest home builder in the United States, which she says is in the process of trialling its bamboo product across several development projects in the United States.
There are more than 1,600 species of bamboo, and BamCore's favorite is Dendrocalamus asper, more commonly known as Giant Clumping Bamboo, which they import from South America and Asia. However, Ms Shelton says they are in talks with the owner of a bamboo farm in Florida who is currently trialling Dendrocalamus asper.
Some embrace the creative potential of bamboo. Event marketing agency Natchlab is creating a 650 square meter temple from recycled bamboo for next year's Boom Arts and Music Festival in Portugal.
"The open plan, airy, high structures are exactly what you need at a festival," Mr. Sibthorpe, creative director of Nachtlab, said at the Green Conference – part of the dance event in Amsterdam.
"Bamboo can bend and shape quite a bit. It's a very flexible material."