Entrepreneurial spirit runs in the Green family – Cross Timbers Gazette | South Denton County | Flower Hill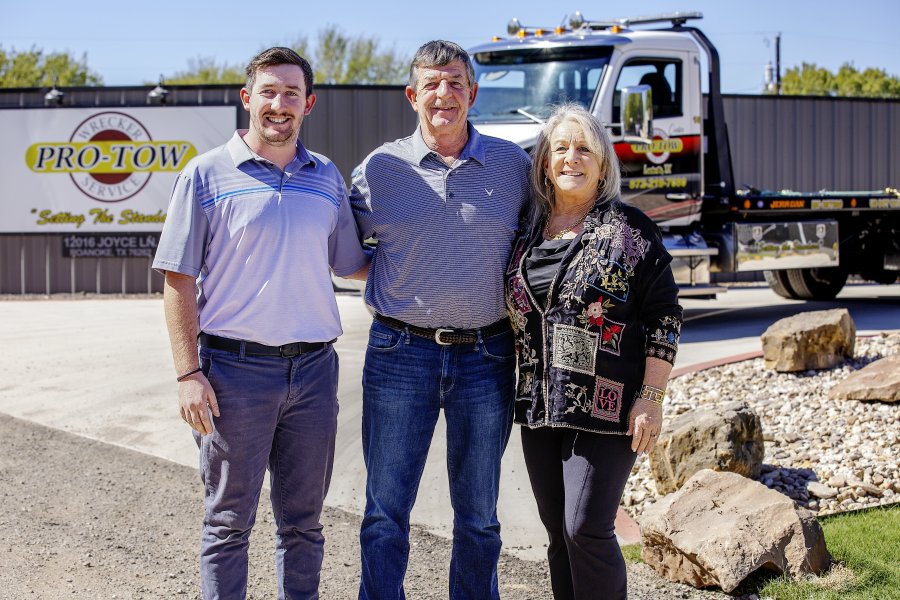 Mike and Pam Green have a lot going on. But the Greens, who have raised their families in the same Argyle-area house for the past 27 years, while not only immersing themselves in the world of entrepreneurship along the way, may have quietly redefined what it means to be busy.
They own Pro-Tow, the largest professional wrecker service in North Texas. They also have Lake Lewisville RV & Boat Storage, Lantana RV & Boat Storage, a growing real estate portfolio, and countless partnerships and small projects spread around. Five thriving businesses, all rooted in a community they can't imagine leaving. They wouldn't have it any other way.
"We complain about being busy all the time, but I'm honestly not sure what we would do with ourselves if we weren't busy," Pam said with a laugh. She and Mike have been married for 30 years and have two children, Brandon (23) and Katherine (27). "There is never a dull moment at Green House. We love to stay busy, and Denton County has been a great and supportive community to grow our family business. We are fortunate to be part of a thriving community, and as the county grows, we are fortunate to thrive and grow with them."
"It's a great, fun life to do what we've been doing for the last 45 years and to live in this community for as long as we do," Mike said. "Every day is not roses – people don't realize that there are a lot of little pieces to running a good business, and we have our failures. But if you stay the course, work hard, take risks, surround yourself with good people, care about people, and provide good service, you usually succeed."
Mike is proof that good things happen to people who work hard. Pam said that by the time she and Mike started dating, he had a small but very successful lawn maintenance business on his hands. He officially started the company in 1978 when he was 13 years old to earn extra money. He also painted curbs and was a paper boy, but lawn maintenance occupied most of his time. By 1991, he had purchased one tow truck when he needed to move his company's trucks to the nearest store. But after selling the mowing business in 1999, he built so many strong relationships that people began turning to him for their transportation needs.
Fast forward to today, Pro-Tow has grown into a full-service towing company with locations in Lewisville, Denton, Frisco, and Northlake. Their network of customers and towing clients includes commercial companies with fleets, contracts with government agencies, car clubs, auto shops, and more.
The need for work like this was clear to Mike.
"I originally bought a tow truck because my shear trucks were always breaking down, and I didn't want to pay someone else to tow it for me," Mike said. "Next thing I know, I have four or five tow trucks. They've grown every year we've owned them."
As his lawn maintenance business and tow truck company grew, Mike also dabbled in real estate. He acquired his first property – which he still owns today – when he was 16 years old. He and Pam continued this routine long after they married and had children, which eventually led to them purchasing the property that eventually became home to Lake Lewisville RV & Boat Storage in 2005.
"We mentioned to someone once that we buy and sell real estate on the side," Pam said. "But then we looked at each other and said, 'Okay, we're buying.'" "It doesn't seem like we got anything off the ground," Pam said. I left the workforce to support Mike behind the scenes and raise our family. But the plan was always to eventually return to work. That's what happened when we built our RV and boat storage facility.
Naturally, this business grew beyond Mike and Pam's dreams. Both sites include a 24/7 entry gate, private barbed wire fences, tenant unloading stations, security cameras, ample lighting, and a comfort station.
In addition to being business owners, investors and real estate developers, Mike and Pam said they get the most satisfaction and pride from watching their children grow and succeed. Brandon, an alumnus of Guyer High School, graduated from the prestigious Kilgore College Fire Academy. He is currently a volunteer firefighter and has grown his Insta-Dump company on the side from four dumpsters to 40. He also works alongside Mike at Pro-Tow and started a hazardous materials department. Meanwhile, Katherine graduated from Arkansas with a teaching degree and dedicated her life to serving students in education in Arkansas and in the New England region. She also helps with social media and marketing for the family business.
"We couldn't be more proud of Katherine and Brandon. They are good, hard-working people," Pam said. "Katherine plans to return to pursue her studies in psychology, which is exciting. We call Brandon Mini Mike, he learned as much as he could from his dad and he's a natural at it too.
Mike and Pam added, "The grass isn't always greener on the other side. It's greener in Denton County. We remember we bought our house when we could barely afford it, and it was all down to business. But we stayed the course and worked hard. We didn't move "Or we slow down and we don't want to either. Thank you so much for the long-term support and successes throughout your lives."