Flower turbines release a flat roof rack for wind and solar energy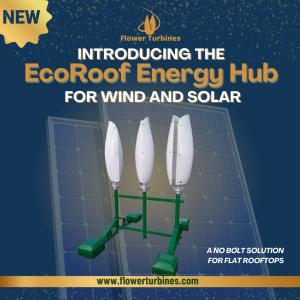 EcoRoof installed

Colorful EcoRoof Energy Center

Bouquet of tulip wind turbines
Flower Turbines announces its latest product, the Flat Rooftop Mount System, a screwless solution for wind and solar energy.
LUBBOCK, Texas, USA, November 21, 2023 /EINPresswire.com/ — Flower Turbines announces its latest product, the EcoRoof Energy Hub, a patent-pending bolt-less solution for wind and solar energy on flat roofs.Traditional roof mounting systems have potential drawbacks such as water leakage and the risk of roof damage during severe weather events. The EcoRoof Energy Hub from Flower Turbines addresses these concerns while providing enhanced safety and flexibility. For more information, see the update on our financing website at https://tinyurl.com/mk4mpnxy.
Property owners can maximize their energy generation potential by placing wind turbines and solar panels side by side with this versatile system.
The mounting system not only simplifies the installation process, but also eliminates the need for traditional screws, maintaining the integrity of the existing roof structure. Each unit comes with three turbines pre-arranged to create a synergistic cluster effect with space for solar energy.
The stabilization system is available first in the European Union and soon in other countries.
Flower Turbines makes three sizes of beautiful, technologically advanced small wind turbines. It also offers grid-connected charging stations and solar power only. For more information, please contact us at support.eu@flowerturbines.com or visit our website at https://flowerturbines.com/locations/europe/. For countries outside Europe: support.us@flowerturbines.com.
Flower Turbines BV, the company's EU subsidiary, has won a Dutch government award for sustainability in two separate years for this product. European Union website: https://www.flowerturbines.com/europe
Flower Turbines is raising money through Regulation A equity crowdfunding at https://tinyurl.com/mk4mpnxy.
Flower Turbines has external validation as one of the top companies:
– Flower Turbines has been awarded the "Solar Impulse Efficient Solution" label, which is evidence of high standards in profitability and sustainability for environmental protection. Here is a link to the Wind Tulips page on the Solar Impulse website: https://solarimpulse.com/efficiency-solutions/wind-tulips#
– Flower Turbines won the annual list of America's Most Bankable Companies by Pepperdine Graziado Business Schools. Flower Turbines was ranked in the top 10 out of 4,500 startups examined.
-Winner of the Dutch Government Sustainability Award for two separate years.
Disclaimer: Investors should read the Prospectus (https://alturl.com/wpfpr) and the risks (https://alturl.com/8hrbw) related to this offering before investing. This Reg A+ offering is provided by StartEngine Primary, LLC, Member FINRA/SIPC. This investment is considered speculative and illiquid and involves a high level of risk, including the possibility of loss of the entire investment.
US support
Flower turbines
+1 806-318-1116
support.us@flowerturbines.com
Visit us on social media:
Facebook
Twitter
LinkedIn
Instagram
Youtube
last
Flower Turbine Branding Video
Related companies
(tags for translation) Construction