How do a couple who hates attention get married?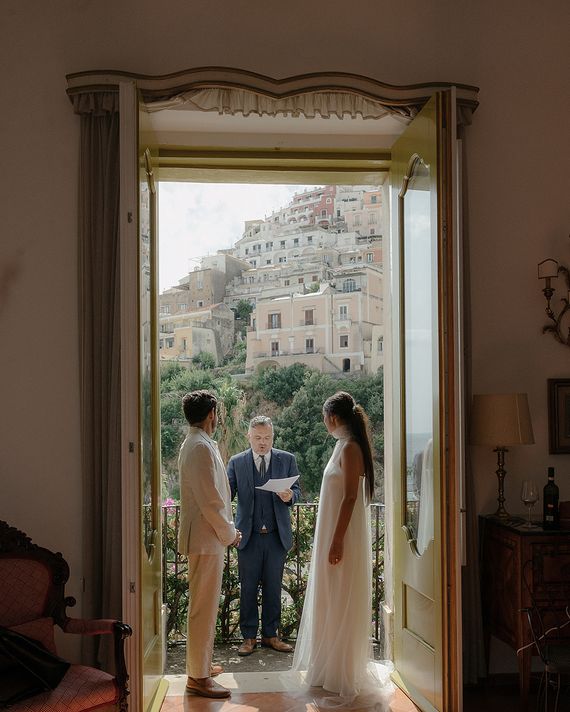 Photo: Azizi Fury Photography
When we ask newlyweds to think back to what they want most for their big day — and we've interviewed hundreds of them over the years — the most common response is, "So it doesn't feel like a wedding!" Gathering up with old friends and eating a little grilled cheese in formal attire to celebrate love seems more special these days than ever, even downright miraculous. And the engaged couples were no less attached to the old wedding brochure – or to the need to please their great-aunt. So, in a flurry of pampas grass and perfectly mismatched bridesmaid dresses, how do you pull off a non-definite affair? To get the answers, we decided to quiz the adorable couples whose weddings we'd actually love to steal, right down to their tiger-themed cake toppers.
Here we spoke with Nicole and Ryan Russo from Point Pleasant, New Jersey. Although they are a stylish couple, she is an interior designer and has her own company. Residential interior design; He works in sales for surf-inspired fashion brands — and who are close to their extended families. They eschewed a traditional wedding and all the attention that comes with a wedding when they eloped last August. They were married on a balcony overlooking Positano's pastel houses and under a blue moon, with the help of a talkative officiant, an old-school travel agent (yes, really), and some supportive, Springsteen-loving locals.
Rayyan: I knew very early on that Nicole was the one. I don't know if it's the same for her. We met through mutual friends, and everyone loved her. My family loved it. She is very interested.
Nicole: I knew this when I brought him to my family. He actually reminds me a lot of my mother: sociable but also calm – and always happy.
Rayyan: We both hate the spotlight, ever. Every time we went to a wedding together, we'd say, "Oh, I don't want any of this. I don't want to walk down the aisle with everyone staring at me." It made me feel like we meant each other more.
Nicole: I am shy and have a big family. They all understood when I told them why we wanted to escape. My mother was diagnosed with Alzheimer's disease when I was in college, about ten years ago. It was slow going at first, but it gradually got worse and she is now in a foster home. I didn't want to plan anything without her there every step of the way. She was always the life of the party, and I really can't imagine having a party without her there.
Rayyan: My family was clearly upset, especially my mother. But I have two older sisters, and they had a big wedding, so I said, "You've already got what you want." At the end of the day, it's just about us.
Nicole: Although if I had left it to them, my family probably would have gone to Italy. It was Christmas time two years ago when we got engaged.
Rayyan: We lived in this little bungalow in Bay Head, New Jersey. I would wake up before her every morning and make her coffee, and then we would take our dog to the beach. I slept with the ring box in my shorts.
Nicole: We are truly early risers. He suggested quite simply: in our living room over coffee. Then we went to the beach and FaceTimed everyone. Both of our families are Italian, so Italy was always on our holiday dream list. So we were like, "Let's go there." I probably wouldn't have chosen Positano if I knew how touristy it was, but it was still dreamy. We got a travel agent who helped us choose the hotel.
Rayyan: It looked like one of the most beautiful places in the area. And given what we were doing, it was like, Well, let's spend a lot of money on the hotel. Nicole is an interior designer, and I loved every little thing about it. I was very insistent that it have a pool.
Nicole: Palazzo Murat was actually the villa of King Murat (King of Naples) at one time. It had a history. Clothes shopping was actually quite painful. I went to BHLDN with my friends because they wanted to do something, and I bought two dresses that I didn't even like and it was a nightmare to return them. It's uncomfortable to try things on and stand on that stupid thing on the platform. it's so bad. My friends have made it less painful, but…there has to be a company that lets you try on dresses at home.
Rayyan: I kept it very summery: a linen suit from J.Crew, no tie, and a Bode shirt underneath that Nicole bought me for my birthday two years ago, which made it extra special. And Italian assholes.
Nicole: I looked through a bunch of dresses and then found this overlay thing on Etsy by Legacy Bridal and worked backwards from that, googling "silk strapless dress" until I found one by Anna Quan. I definitely wanted a hat and found Janessa Leoni, who makes a packable hat, and it was perfect. I also knew I wanted a piece of my mom with me, so I sewed her veil lace onto the hat for me.
Rayyan: She kept wanting to show me her dress, so I said, "No. Isn't that bad luck?" I would refuse and sometimes she would put it on and run into the room.
Nicole: We flew into Rome on Sunday and flew to Positano. It was supposed to rain all week, but Thursday, our wedding day, turned out to be the only beautiful day.
Rayyan: it was the best day. Positano just blew my mind – all those houses built into the hills. I kept saying, "This is crazy. This is crazy!"
Nicole: We woke up early that day and went to the beach and watched the boats taking people to Capri. We've been at the beach too long, getting spray and what have you, but that's kind of how we are.
Rayyan: We got back together very quickly.
Nicole: Looking back, I would have definitely done my hair and makeup. But we hurried and I half-dried my hair with a blow-dryer, so it was kind of frizzy, but that's okay. I always hate how my makeup looks when I'm done with it anyway. The hotel had an official handling the ceremonies on their behalf: Rafael.
Rayyan: It was really rad. He was supposed to officiate the wedding that was going on downstairs, but he was having all this drama with this couple and was talking nonsense about them: "Do you want some tea?"
Nicole: He said, "No, do you want some 'deep chat'?" And we were like "some." What"And he said, 'That's what we say!' He asked me if we were comfortable talking about God, and I said 'yes' — for the Grammys. He made us kiss the rings before we put them on, which I think was an Italian thing I didn't know."
Rayyan: Then, I realized we hadn't eaten all day, so we went and had pizza. While we were sitting on the edge to eat, random people came up to take pictures of us, saying congratulations: "Beautiful bride, beautiful bride." Everyone was saying how beautiful Nicole was, and I was like, What about the groom?!
Nicole: Our photographer, Kayla from Dear Fioré, suggested we take a boat to continue the day. I never would have thought of it, and it was so worth it. Seeing everything from the water was so beautiful.
Rayyan: We were just having fun. It was mellow with beer and a wedding playlist created by Nicole.
Nicole: We played Bruce Springsteen's "Rosalita," and people on another nearby boat panicked. Italians seem to love Bruce. It happens to be our mothers' favorite song.
Rayyan: Our travel agent had made a dinner reservation at the nicest restaurant in the area, but when we went two days before to confirm it, they had overbooked or something and we had to change our course. The other day, I had just stopped at a restaurant along the beach.
Nicole: It was very touristy.
Rayyan: But the food was really good! To conclude our night, we got dressed, had a bottle of wine, and read our vows to each other on the porch. My mom was texting us telling us she caught a blue moon that day, which was our actual wedding day, so that was the backdrop.
Nicole: It was perfect. I cried. Although while Ryan was reading his book, room service kept trying to get in and we told them they had the wrong room, which was very funny. We were laughing and crying.
Rayyan: From there, we took a high-speed train back to Rome and stared at our rings. We stayed in Europe a total of 13 days. Rome was so wonderful.
Nicole: We went to San Sebastian and Paris, but honestly our favorite place was Biarritz because it's castles on the beach. Ryan was surfing the Internet every day, and I was able to decompress. This was the dreamiest part.
Ryan and Nicole got ready together in their room at Palazzo Murat in Positano.
Photo: Azizi Fury Photography
In keeping with the cold day, Nicole decided to style her hair and do her makeup herself.
Photo: Azizi Fury Photography
All three of the couple's rings were made by Marigold Jewelers in Asbury Park, New Jersey.
Photo: Azizi Fury Photography
After attending the same Jersey Shore High School five years apart, Nicole and Ryan met through friends.
Photo: Azizi Fury Photography
Nicole wore a simple Anna Quan strapless dress under a Legacy Bridal cape with Prada slides, while Ryan wore a J.Crew suit and Bode shirt.
Photo: Azizi Fury Photography
They were married on the balcony of their room by the hotel's official, Rafael.
Photo: Azizi Fury Photography
Via email, they worked out the details of the ceremony, such as allowing some religious talk (for the bride's grandmother).
Photo: Azizi Fury Photography
One festive aspect they weren't expecting? They are encouraged to kiss each other's rings…
Photo: Azizi Fury Photography
…Which they did before and after laying on each other's fingers.
Photo: Azizi Fury Photography
Both the bride and groom knew each other was "the one" when they introduced them to their families.
Photo: Azizi Fury Photography
After it was official, they spoke with family via FaceTime to share the joy.
Photo: Azizi Fury Photography
For their next stop, Nicole added a hat by Janessa Leoni, to which she sewed her mother's veil.
Photo: Azizi Fury Photography
As they strolled the streets of Positano, the newlyweds received a ton of attention (and affection) from passersby.
Photo: Azizi Fury Photography
They realized they hadn't eaten, so they grabbed pizza before boarding the boat.
Photo: Azizi Fury Photography
Their photographer, Kayla Collins at Dear Fiore Photography, suggested booking a boat trip to continue the celebration.
Photo: Azizi Fury Photography
"We were just having fun," Ryan says.
Photo: Azizi Fury Photography
In one hilarious moment, people on a nearby boat were horrified when they heard the pair playing Bruce Springsteen. "The Italians obviously love Bruce," says Nicole.
Photo: Azizi Fury Photography
After their flight and dinner, they read their vows to each other on the balcony of their room under a blue moon.
Photo: Azizi Fury Photography
The Euro journey continued to Rome, San Sebastian, Paris and Biarritz.
Photo: Azizi Fury Photography