Lavonne Lucille Sandersfield Obituary 2023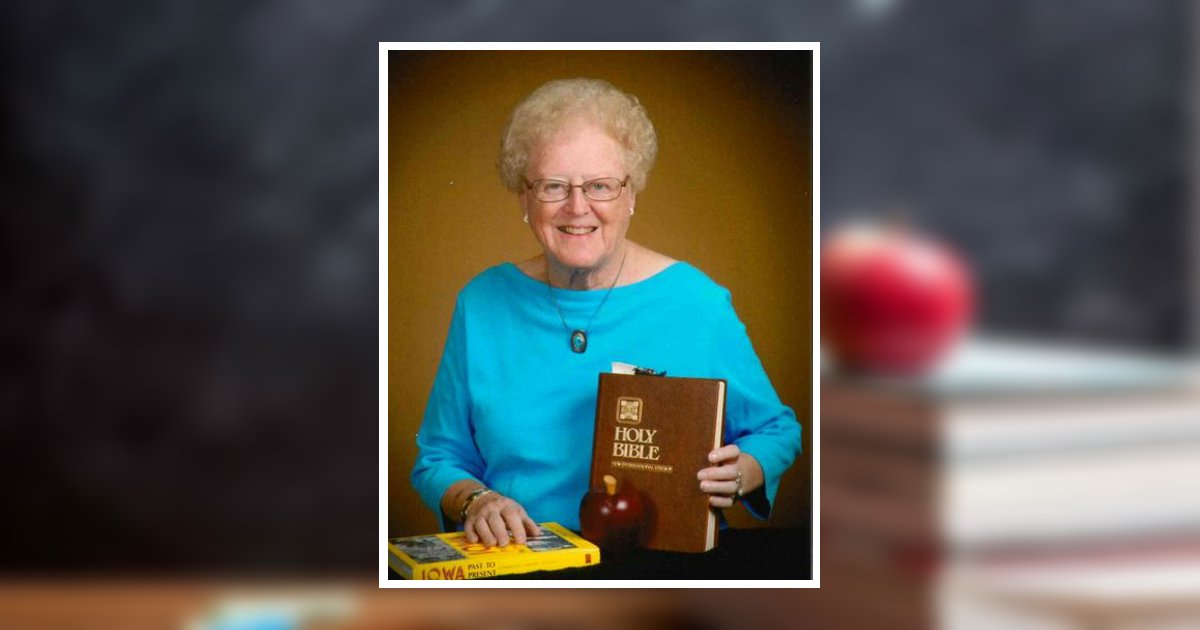 Williamsburg Lavonne Lucille Sandersfield was born on July 1, 1937, on the family farm in Sibley Township, Sibley County near Gaylord, Minnesota, the daughter of Herbert and Adela (Lapps) Spearing. She was baptized on July 11, 1937, and confirmed in March 1951, at Immanuel Lutheran Church by Rev. Winter. She graduated from Gaylord High School in 1955, Concordia College in St. Paul, Minnesota in 1957, and Concordia Normal College in Seward, Nebraska in 1963.
She began her teaching career in 1957 at St. John's Lutheran School in Lincoln Township, Iowa County, Iowa. Lavon married Denise Arnold Sandersfield on July 9, 1960, in Gaylord, Minnesota. Laffoon then taught at St. Paul's Lutheran School in Williamsburg, which later became Interparochial Lutheran School, until her retirement in 2000. She continued to teach Iowa history to fifth graders at LIS for many years.
After retirement, Dennis and Lavon spent the winters in Punta Gorda, Florida at Paradise Park. She was the park's kitchen supervisor. She and Dennis were active members of the WBCCI Airstream Club and traveled to many rallies throughout the United States and Canada. She was a member of Delta Kappa Gamma, an organization for women's educators. Iowa County Historical Society, St. Paul Lutheran Church, and the Women's Guild. She loved to read and served on the Williamsburg Library Board. She loved all types of history, especially Biblical and Iowa history, flower gardening, playing cards, cooking, and collecting cookbooks. Lavon passed away on Sunday, November 19, 2023, at the English Valley Care Center in northern England, at the age of 86.
She is survived by her nephew, Rev. John (Dasia) Reinke. her niece, Wanda (Jeffrey) Payne; great nephews, Rev. Joshua (Tristan) Rink, Joseph Rink, William Payne, and Thomas Payne; nieces Amanda Payne and Rebecca (Lucas) Sing; great nieces, Aquila, Talitha and Saphira Reinke, Maren Singh; great-nephew, Holden Singh; sister-in-law, Audrey (Doug) Faubert; nephews Scott, Jason and Jeremy Faubert and special friends Karen and Dick Wichman and Pat and Larry Delamuth.
LaVonne was preceded in death by her parents, her husband Dennis in 2011, her sister Charlene Reinke, her nephew Caleb Reinke, and her nephew Nathan Faubert.
A Celebration of Life Service will be at 10:30 a.m. on Wednesday, November 22, 2023 at St. Paul Lutheran Church in Williamsburg. Burial will be in St. Paul Lutheran Cemetery. Visitation will be Tuesday from 4:00-7:00 PM at Powell Funeral Home in Williamsburg. In lieu of flowers, memorials may be made to St. Paul Lutheran Church or Interparochial Lutheran School. Messages and tributes may be directed to www.powellfuneralhomes.com.