Rain, hail or shine Julie Stoddart heads to Toowoomba Queens Park after sunrise almost every day.
She is one of five council gardeners tasked with caring for the city's most popular garden, and for many months she has had a front row seat watching the flowers take center stage at Toowoomba's Botanic Gardens as the seasons change.
"Who wouldn't want to work in this beautiful part of the world?" said Mrs. Stoddart.
"You have the flowers, the green grass, the beautiful trees, and all the history that surrounds this park.
"I think I've got the best job in the world."
Known as Australia's Garden City, Toowoomba is home to the Carnival of Flowers, one of the country's largest flower festivals, which brings thousands of flower-loving visitors to the city each September.
Queen's Park is the heart of the city both geographically and culturally. It is home to numerous sports fields, playgrounds and tree-lined avenues, but each spring its botanical gardens become the focal point of the park.
This year a team of five gardeners planted more than 35,000 seedlings and 5,000 bulbs to display colorful spring flowers.
"It's a big task for just five of us," Stoddart said.
"But we made it work," added Matt Schick, horticulture supervisor.
"I think there's pressure on all of us to put on these shows, but it's what we enjoy doing."
The small team not only maintains the garden, but also designs the annual flower displays.
"I think people are amazed that we do everything, from drawing the drawings, to ordering the seeds, to planting them and then maintaining them," Schick said.
"Basically everything."
Stoddart described her job as "reasonably physically challenging."
"There's a lot of digging, lifting, kneeling, sitting, squatting and bending," she said.
"Being on a mower all day is not glamorous," Mr. Schick added.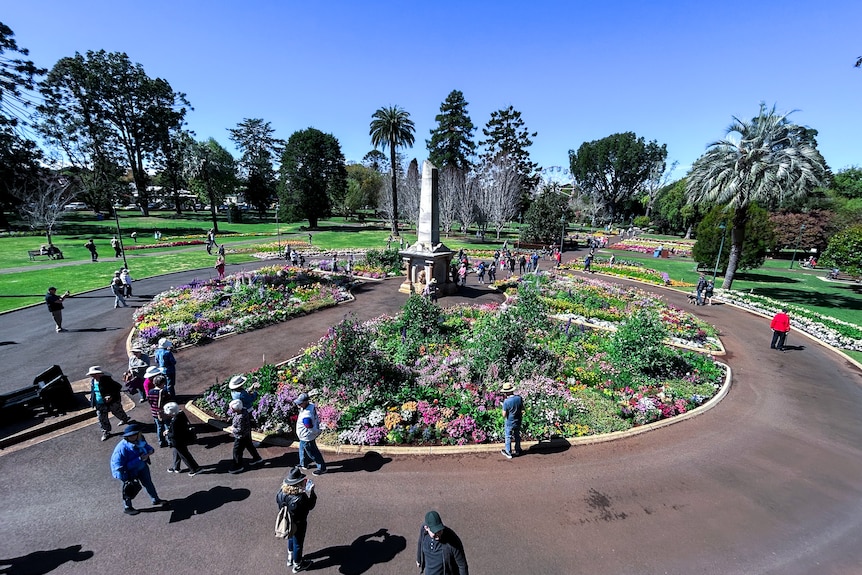 Receive compliments every day
But the couple says the smiles and comments they receive from park visitors more than make up for the dirt under their fingernails and calluses on their hands.
"We get compliments every day, not just once a day," Stoddart said.
"Who goes to work and gets praise for their job?"
She said she didn't know how to "take all the praise" when she first started gardening.
"In any other job, you go to work, you do the work, you go home, but when you get praise all the time, it's really rewarding," Stoddart said.
"Even little kids will come up to us and say, 'Are you a fan of flowers?'
While working in a public space, the gardeners ended up becoming the unofficial face of Toowoomba Regional Council.
"We are often the first point of contact for local matters," Ms Stoddart laughed.
"I really enjoy talking to the public, and being able to give them some hints and tips about what grows well here."
"I often wonder, 'Why don't you have barbecues?' But we are a heritage-listed botanical garden, so what we can do is limited," Mr. Schick said.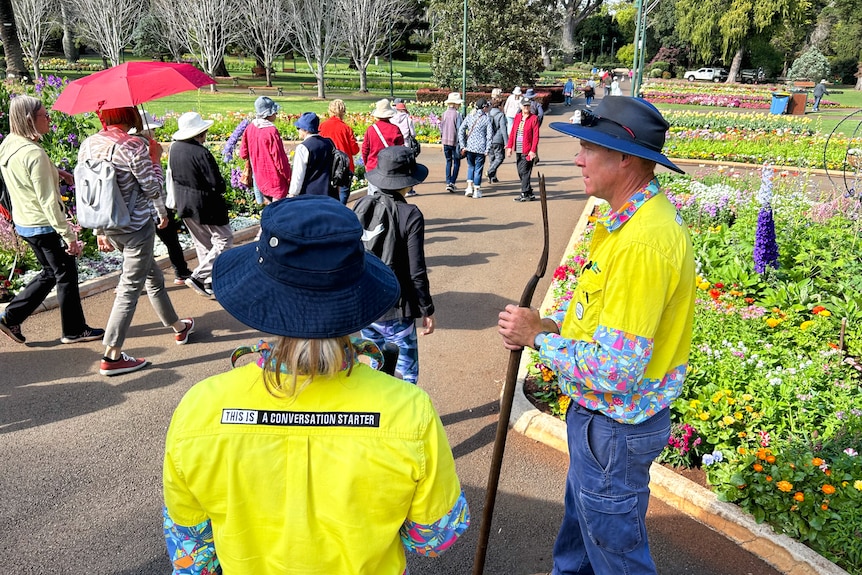 But after a hard week's work in the garden, where do gardeners go to get some rest and relaxation?
They go straight back to the park.
"I'll come over on the weekends when I'm not in uniform and bring my family," Stoddart said.
"Life can get very busy when you're a gardener, and at this time of year you need a chance to stop and smell the roses."
    (tags for translation) Toowoomba Regional Council