The couple got engaged at the Toledo Zoo's tree lighting on Friday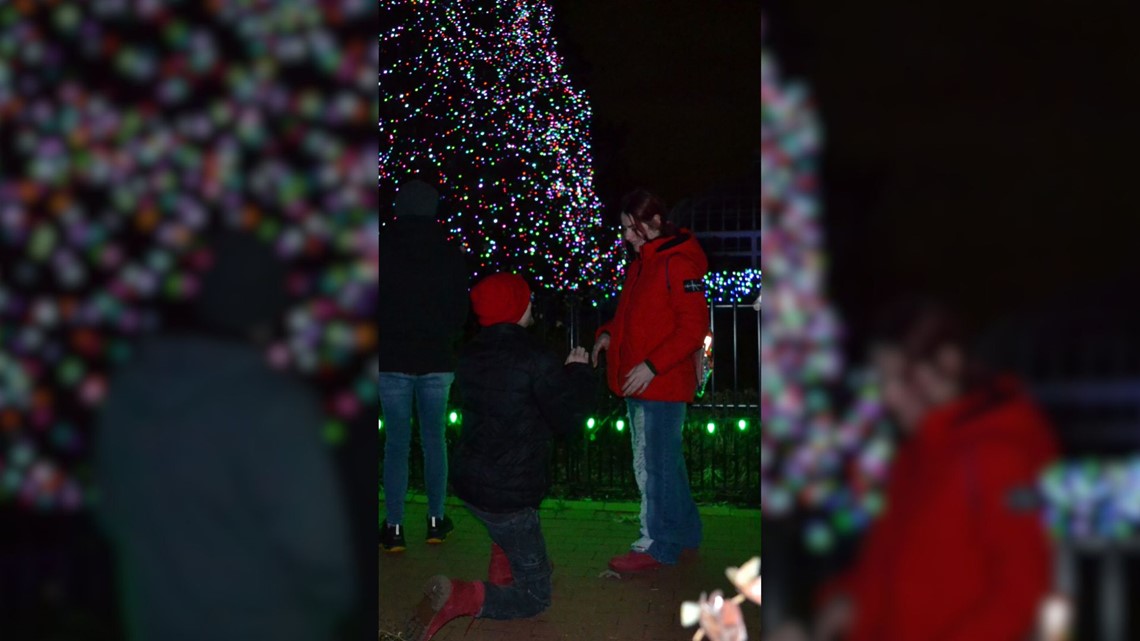 TOLEDO, Ohio – At 6:10 Friday evening, Zoo attendees began the countdown to the lighting of the 85-foot-tall Norway Spruce. When they reached zero, the tree, darkened by low clouds after sunset, came to life with thousands of multi-colored lights.
Just a moment later, Noah Condon of West Toledo got down on one knee and proposed to his girlfriend, Justina Pace. She said yes.
Lots of people had reasons to enjoy the season at the Toledo Zoo, which kicked off its annual "Lights Before Christmas" display Friday and runs through Dec. 31.
RELATED: Toledo Zoo lights out before Christmas 2023 kicks off on Nov. 17: What you need to know
Some traveled long distances to enjoy the day. Two-year-old Nash from Grand Blanc, Michigan, was happy to see that the elephants were warm and cozy in their indoor exhibits. He visited the Toledo Zoo a few months ago and liked it as much on Friday as he did then.
RELATED: Toledo Zoo releases ultrasound image of elephant calf scheduled for spring 2024
Meanwhile, in the new and improved Winter Village, families were busy chatting with the Grinch and Cindy Lou Who.
The Grinch, as a natural and malicious nature of his character, vowed to steal Christmas. Cindy Lou who promised young visitors that she and Santa were working hard to foil his little tricks.
The Grinch may be grumpy, but he's never the kind of person who refuses to take photographs.
Unless of course he's a little too scary to stand. Nora and Mila Forsyth from Essex, Ontario spent time with Cindy instead.
The Winter Village features lots of fun things for the whole family to enjoy. The ice slide is a favorite for many, including Miles and Lucy Adams Brewer, who were excited to drink hot cocoa after sliding down the slide.
The Winter Village was also a site of rest and relaxation, with fire pits, food and drinks providing the warmth needed to face northwest Ohio in mid-November, a time of year that can mean anything from unseasonably warm to bitter cold. Fortunately, and festively, the weather on Friday was, as Goldilocks would say if she were a meteorologist, just right for this time of year.
Zoo-goers enjoyed snacks and drinks while relaxing near convenience stores and snack kiosks.
"I heard there are new things to explore," Tobias Hensley said. "I've been coming here since I was a kid, and I think the new areas bring families back every year."
"It's been a long time since I've been here," Anthony Kalil said. "I'm really excited about the spotlight."
A group of friends from Blissfield, Michigan, stood on a bench in the zoo's Botanical Gardens and, between periods of rough housing and teasing each other in good nature, said they were excited to see the aquarium and Santa Claus.
For northwest Ohioans (and their visitors), 'tis the season at the Toledo Zoo.
More from WTOL 11