Rounding out the shopping options is Port Kalama's new, nearly $19 million Mountain Timber Market.
The market's grand opening is scheduled for Saturday, while some vendors started selling their wares a few weeks ago. The nearly 33,000-square-foot building on the Columbia River includes nine storefronts, two small restaurant spaces, a food truck section and more.
Here are the shops at 254 Hendrickson Dr. Until now.
Pereria la vaquita
360-431-7732, Pereria La Vaquita on Facebook
Leslie Martinez of Calama sets up her food truck in one of the designated food truck parking spaces outside the market. Since July 4, Martinez said she has been selling authentic Mexican birria — slow-cooked marinated beef — served in tacos, nachos or with rice and beans. Baria Martinez's type of chef hails from Guanajuato, Mexico, where her recently deceased father grew up, she said. The two had dreamed of opening their own restaurant, she said, and "it makes me very emotional to know that dream will come true" in the market.
Bloom Cake Studio
406-217-6122, www.facebook.com/bloomcakestudio2023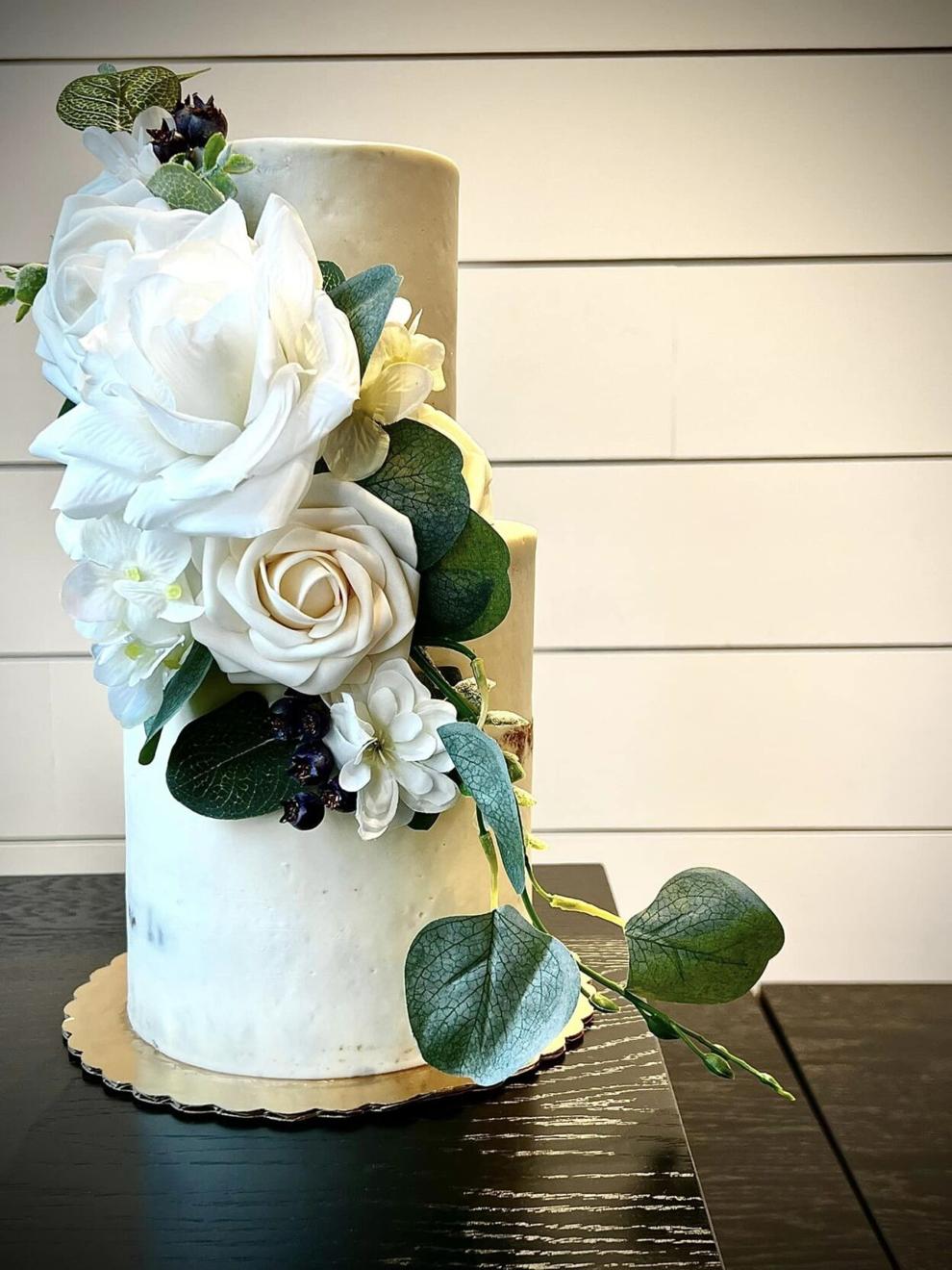 Pastry chef Kylie Davidson said she trained in New York City with a top wedding cake artist. Now, the former Longview resident recently moved to Kalama to pursue her dream of opening her first business selling wedding cakes, as well as small desserts like cookies, cupcakes, cookies and cakes by the slice. Davidson strives to use local ingredients to create upscale desserts, in an area she said needs more dessert options. Examples of her work include vanilla sour cream cake topped with Italian meringue buttercream and red velvet cake filled with chocolate ganache and topped with mascarpone cream cheese buttercream. It's located in one of the market's two restaurant spaces of about 675 square feet, which includes its kitchen, a dessert display case and a space for wedding cake consultations, Davidson said. She said she hopes to open outdoor seating later.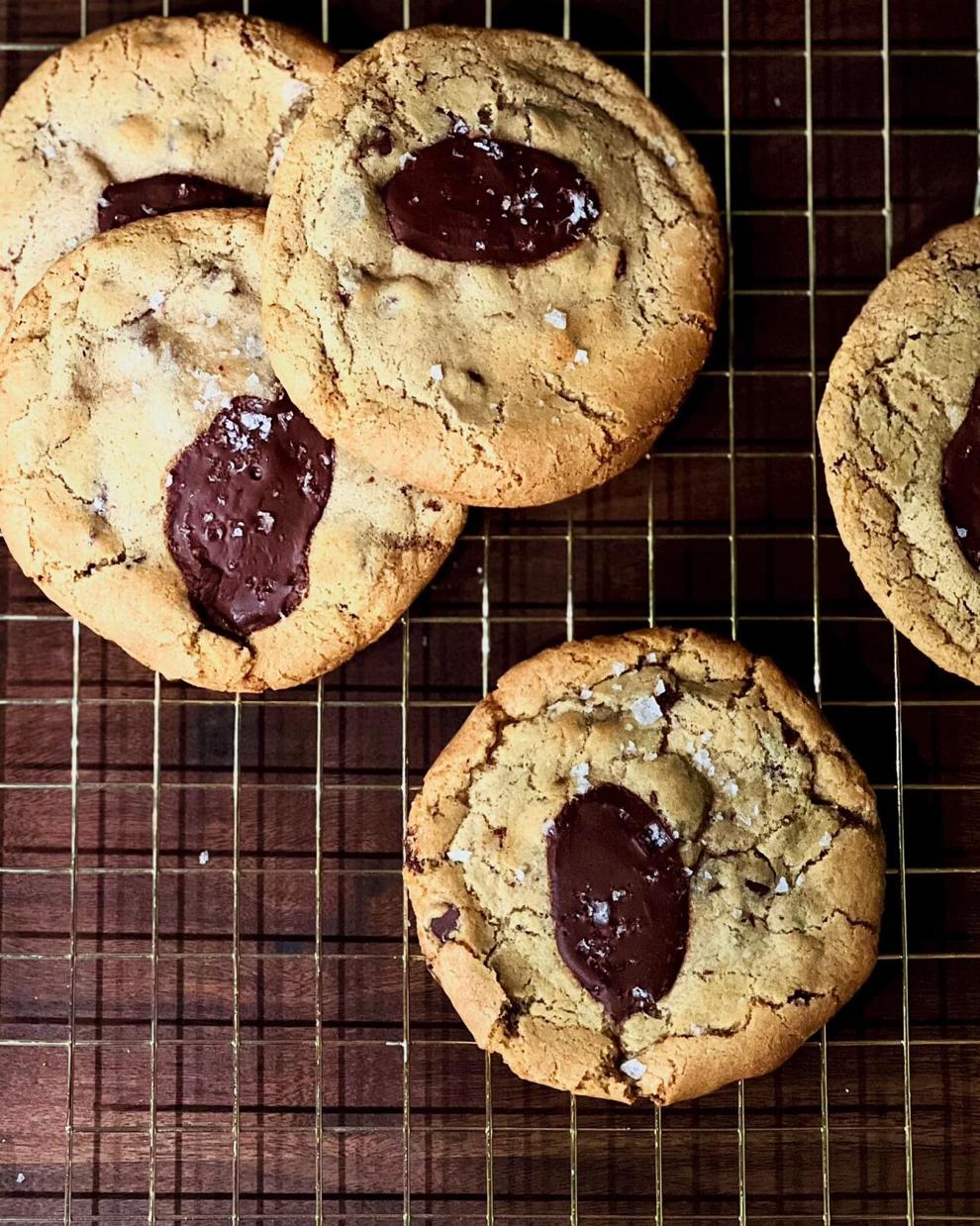 Bonnie Blooms
360-703-9008, bonnyblooms.com
Owners Jana and Craig Bell opened their two-acre flower farm outside Kelso in 2014. The couple, who met in Scotland, are now opening their first storefront in Kalama Market "to bring the flower farm to the people," Jana said. The couple specialize in dahlias, and as well as selling dahlia tubers or roots, they also offer bouquets and arrangements for events such as weddings.
Chinook Shop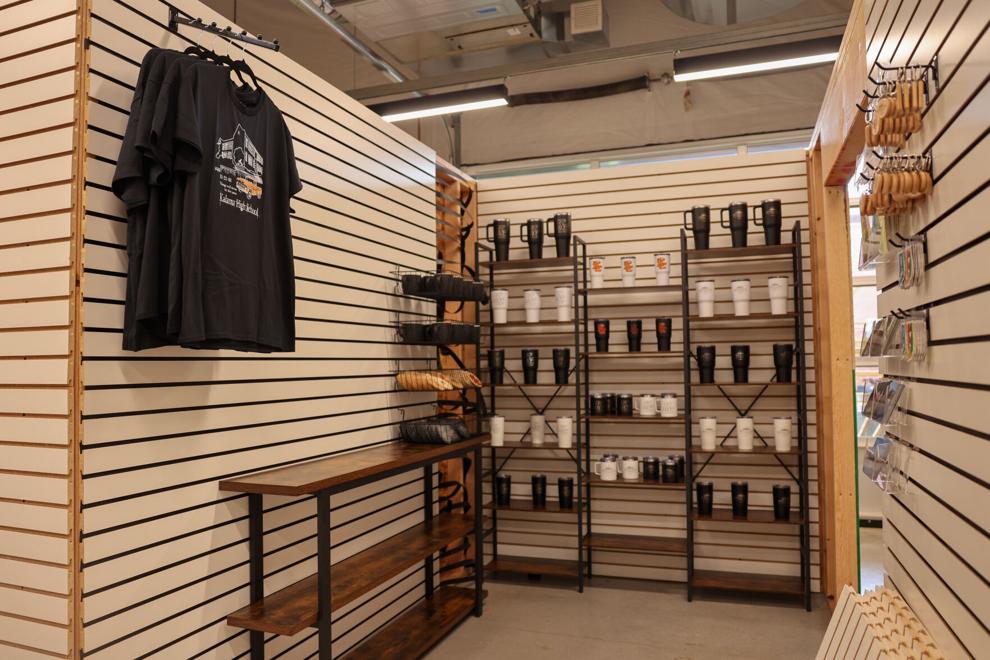 Visitors will be able to purchase merchandise designed and produced by Kalama students at the Chinook Shoppe, a new store developed and operated by Kalama School District students and staff. The store plans to sell items such as Kalama-themed T-shirts, mugs, mugs and key chains, and is a new addition to the district's career technology education program that aims to give students real-world experience with marketing, engineering and what goes into running a small business.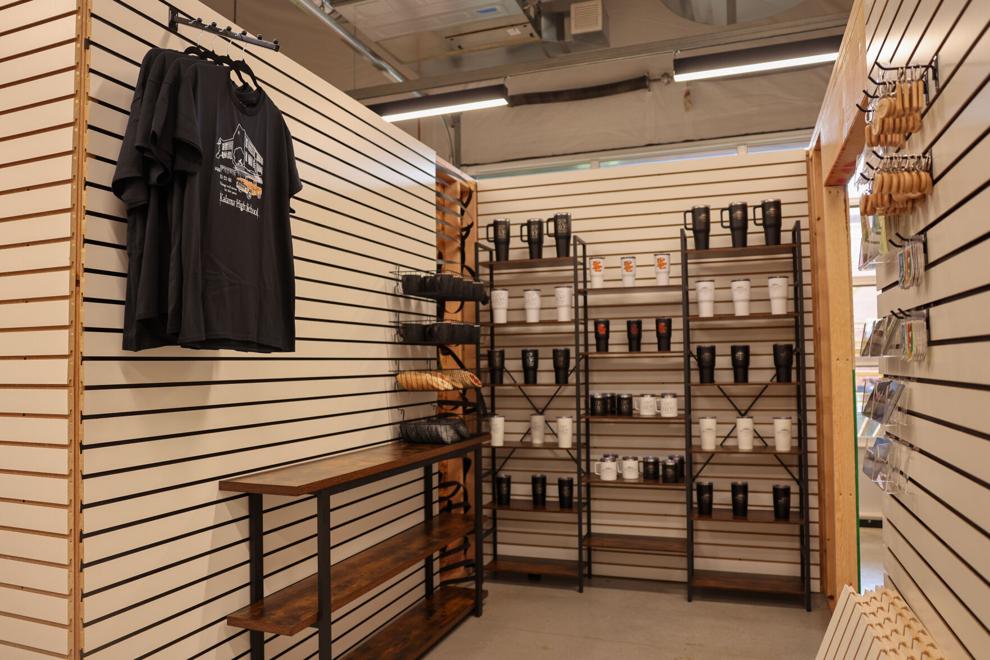 DK Hyun
360-831-3188, fivestarflavors.net
Katie and Don Sweet started their own spice, rub and bitters company in Vancouver a year ago. Now they plan to sell Five Star Flavor products in the first brick-and-mortar on the market, as well as barbecue tools like tongs and foods like sausages and cheese. The couple blends their own spices and rubs meats and vegetables with flavors like garlic pepper and mesquite, Katie Sweet said. They also handcraft cocktails in flavors like fragrant orange and chocolate.
Chachi flavours
Chachi Flavors on Facebook
Owner Zachariah Santiago uses inspiration from his father's homeland of Puerto Rico to sample traditional Puerto Rican and Pacific Northwest dishes at his food truck. A resident of Calama for eight years, Santiago said he cooks local seasonal items like crab and fried clams, as well as traditional Puerto Rican barbecue dishes like pincho — chicken kebabs — and pork shoulder. He's offering his own take on the Cubano sandwich, and plans to include a rotating menu on weekends. Opening his own restaurant is "something I've always wanted to do," he said, and creating the market was the perfect timing for him to join.
Luqman coffee
The café, which has nearby locations in Castle Rock and Woodland, is set to bring small batch roasted beans to market. Flavors include the Legendary Blend, an in-house expresso brew with hints of sweet chocolate and caramel, and the award-winning Peg Leg Jim Blend, a dark roast, according to the company's website.
Parker Family Wines
360-281-2716, www.koipondcellars.com
People can enjoy locally made wines and small plates overlooking the amphitheater at Port of Kalama Marine Park at Parker Family Wine Market. Owners Wes and Michelle Parker have opened former brick-and-mortar stores under the name Koi Pond Cellars, including in downtown Vancouver, while the winery itself is located in La Centre. The couple's newest venture, Parker Family Wines, offers small-batch, handcrafted blends. "Really first-class wines," Wes Parker said. Their market space includes outdoor patio seating, where people can enjoy Bordeaux-style wines by the glass, as well as tastings. The market, overall, "offers a sense of luxury," and is "really top-tier," he said.
Reese's fine art photography
360-909-3753, www.facebook.com/reecephotoart
Kalama photographer Joe Rees has sold his landscape images on metal prints for five years at local galleries, but has now opened his first brick-and-mortar business. Reiss said he depicts distinctive landscapes of nearby mountain ranges and locations like Hawaii, places that locals have likely visited before and have connections to. His metal prints are sold by the square inch and are framed or unframed. He also prints his artwork on smaller pieces such as refrigerator magnets for souvenirs.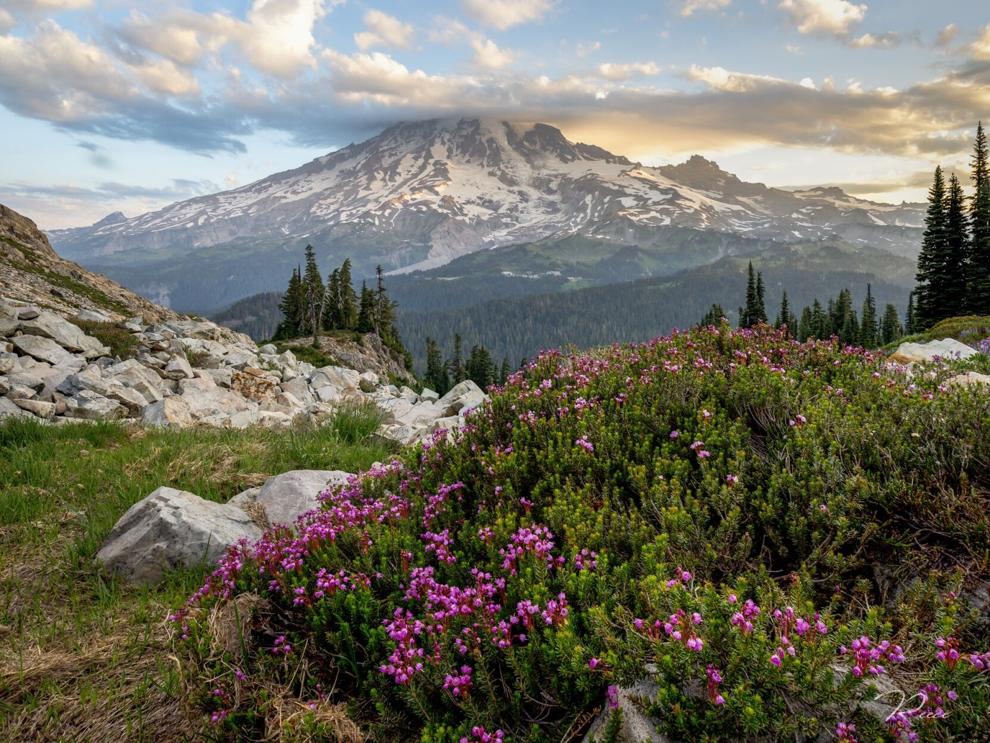 Dot Shop Exhibition
www.facebook.com/ChristinaLeeDotMeditationAu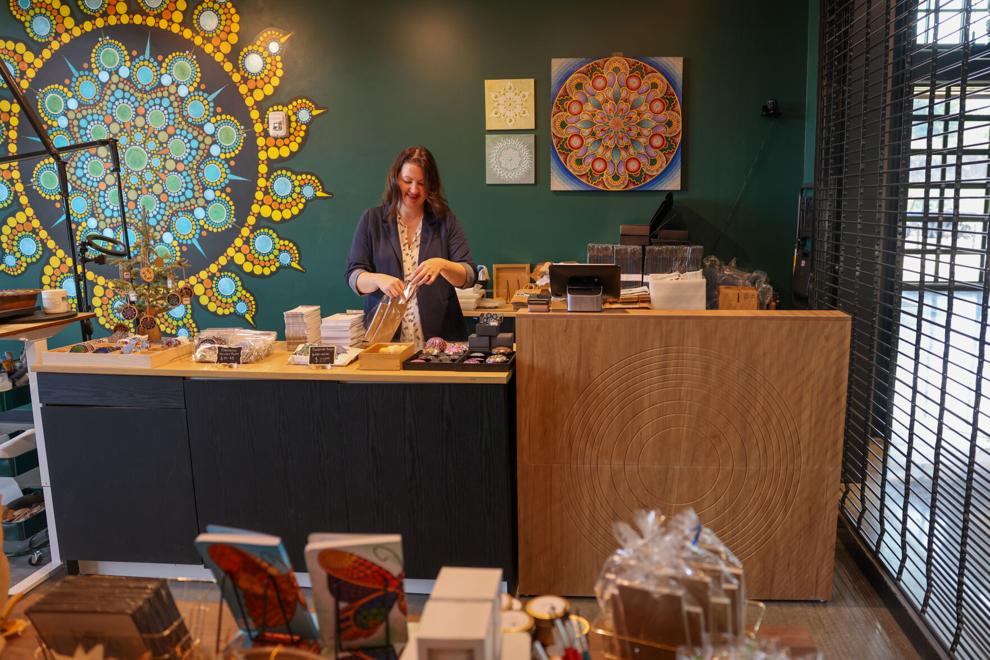 Kalama artist Christina Lee creates colorful, geometric art using dots to cover stones, canvases, and more. Lee, who studied art at school, said she turned to pointillism after watching an online tutorial. In addition to her art, she plans to sell "dotting kits" in her shop, which she said will include stencils, paint and dotting tools to create about 15 different dot sizes — from roughly millimeter dots to half-inch dots — and a link to watch Lee's instructions online. She also plans to sell polka dot art pieces by other artists, as well as art supplies she said "you can't find at Michaels or on Amazon."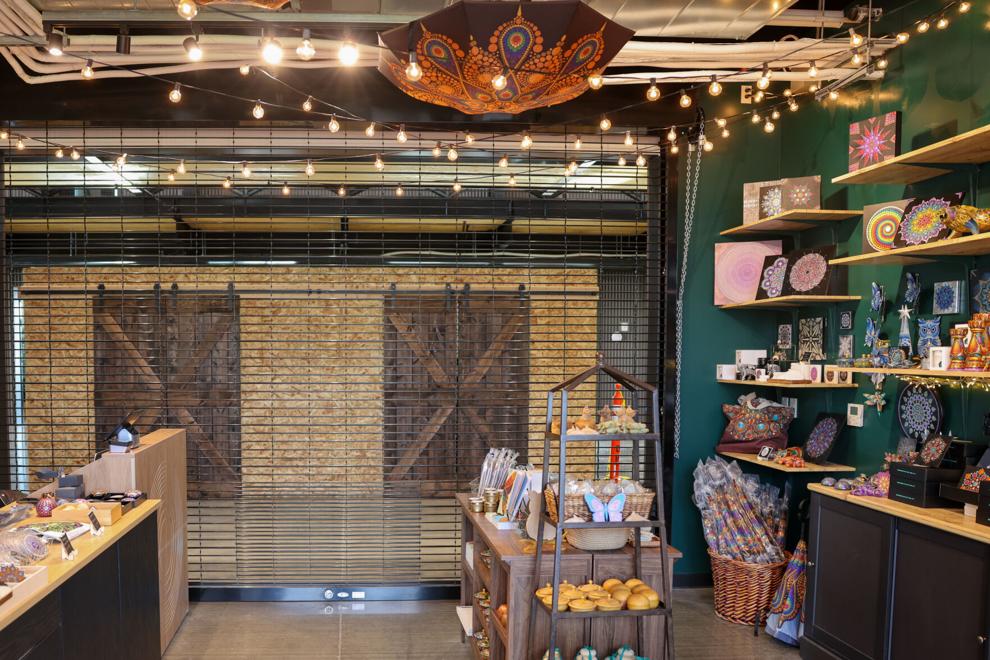 Upstream ice cream
www.facebook.com/upstreamicecream
Two Kalama couples — Elizabeth and Tyler Pierce and Alana Buck and Nate Davis — plan to park their local ice cream truck on Memorial Day during Labor Day outside the market. The seasonal restaurant, which opened in July, specializes in build-your-own ice cream sandwiches. The ice cream, made in the Pacific Northwest, is sandwiched between two pieces of cake from local bakeries in flavors like chocolate chip and M&Ms, Elizabeth Pierce said. People can add toppings like sprinkles or Oreos. They also offer ice cream in cups, on waffle cones or muffins, as well as make your own sundaes. Previous monthly specialty ice cream flavors include Mountain Berry and S'mores. "It's important to bring everyone together," Elizabeth Pierce said of the new business venture. "Who doesn't like ice cream?"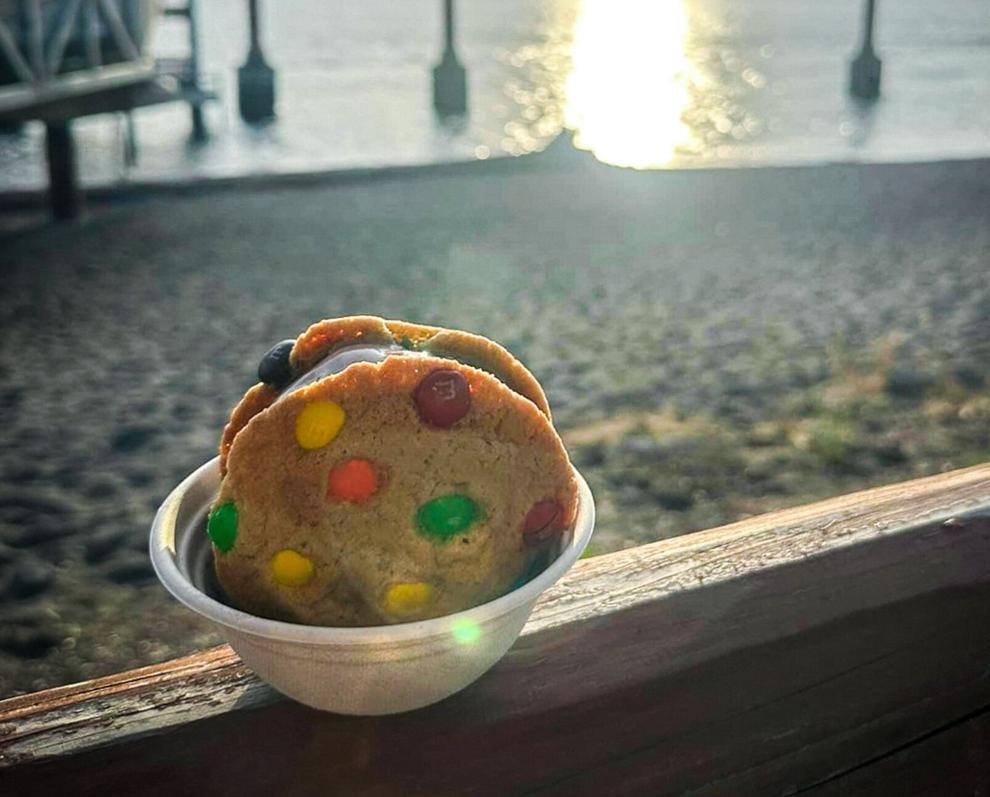 Fancy chocolate
Pamela Wannous and her mother-in-law Anne Wannous make handcrafted chocolates in flavors such as ginger ale, salted caramel and wine truffle. Pamela Wannous was inspired by her aunt's experience in chocolate and aimed to create a family legacy by starting the business in 2012, according to the company's website. Other unique chocolate flavors include bourbon candied pecan caramel, habanero truffle, and molten egg nog.
Daily News, Longview, Washington.